Bringing together the Australian ICT channel with over 2,600 partners, featuring 40+ global leading technology vendors – TechX is the biennial IT event of the channel brought to you by Dicker Data.
Back in 2017, Dicker Data held its second biennial national TechX roadshow, delivering compelling keynotes and an exhibition designed to educate partners and showcase the latest innovative and strategic IT opportunities available to Australian partners.
Here's a look back over the key themes and discussions shared at TechX 2017.
Digital Transformation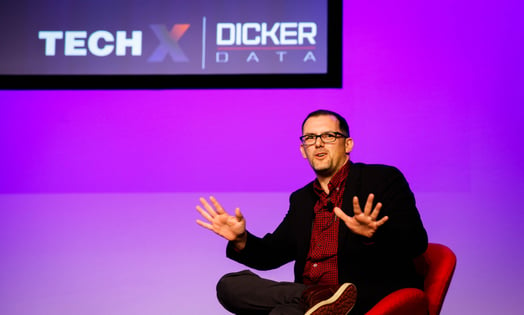 Digital transformation was nothing new, especially to our industry, but as end-user organisations continue to reap the rewards from the digitisation of their processes, their appetite for further efficiency and productivity gains continued to grow. Steven Miller, Microsoft, spoke extensively around edge technology and how, coupled with digital transformation, there's been a significant impact on businesses. Miller's advice for partners was that "supporting your customers as they move ever more towards a fully cloud based future is as vital as ever."
Kevin Bloch, CTO, Cisco ANZ discussed the idea of the opportunity being larger than IT itself when we take a closer look at our customers operations and their lines of business. "We and our partners need to continue to sell desktops, servers, data centres and networks into IT, but in parallel start to take digital technology into the real lines of business," Bloch noted. Two years on, a clear distinction can be seen between the partners who have not digitally transformed their customers' everyday lines of business are trailing behind on the competitive landscape.
"What do Dicker Data see the most successful partners doing differently"?
With such a large market opportunity in front of us, this was one of the most common questions we received from partners at TechX 2017. Here's what we saw the best-practice partners knowing and doing differently at the time:
Being able to effectively and succinctly explain what Digital Transformation is

They've become a Strategic Pillar in their customers' businesses

They're changing the conversation and challenging customers to think differently

They're adopting specialisation within their organisations
In the two years since the discussion at TechX 2017, these four key points have remained relevant and built the foundations of what our best-practice partners are doing differently today.
Internet of Things
Jason Hall, General Manager - Services and IoT, Dicker Data

The Internet of Things (IoT) and how it is impacting businesses like never before was a key discussion point at TechX 2017. Dicker Data's General Manager – Services & IoT, Jason Hall, explained that, put simply, IoT is the digitisation of the physical world. Hall outlined the six key reasons as to why IoT was a current market trend that couldn't be ignored:

Technology advancements have enabled businesses to do more with IoT technology

Cost reductions have made IoT solutions more viable and accessible than ever before

New thinking is enabling businesses to find new ways to optimise businesses

IoT is now at a point where it is delivering true measurable value

IoT enables partners to deliver unique solutions that differentiate their offerings

By helping end-users understand and reap benefits from IoT solutions, partners naturally become the Trusted Adviser in this space
Reinforcing the importance of edge compute, Pat Devlin, Hewlett Packard Enterprise, kindly brought his Tesla along to TechX to demonstrate IoT in action. "IoT is about connection, but it's also about edge compute. HPE have invested very heavily in edge compute. The biggest change that's coming is all the connected devices, the amount of data they're generating and dealing with that data at the edge. Edge compute is going to be very important moving forwards", Devlin noted.
Launched back in August 2017, Dicker Data's IoT community is continuing to thrive off innovation, new ideas, thought leadership and the power of networking with like minded individuals. Our role in the IoT space is to provide enablement and support to the IT channel to ensure our partners are confident to have IoT discussions, also to design and deliver IoT solutions, specific to their customers.
TechX 2019 – Empowering the Future Channel
Maximise your opportunities, transform your customers' operations and discover new vendors and technologies to help you grow your share of wallet with your customers.
With countless hot topics populating key industry discussions TechX 2019 will focus on how Dicker Data and its sponsorship partners empower the future channel to maximise the opportunities new burgeoning market trends are bringing. Connect with the Dicker Data team and discover how we can support your business with our value-add capabilities. In an increasingly competitive environment, learn how we can help keep you ahead of the changing technology landscape. TechX 2019 is your opportunity to learn how the vendor community is going to empower you to be more successful.
Registration for #TechX19 is now open. Click here to register.